MTB riding technique courses
Touring on the mountain bike: Once learned, never forgotten
Wheelies, Drops, Bunny Hops – at events in the early days, touring bikers would marvel at the attention-grabbing pros of the MTB circuit. Tricks were eagerly picked up and immediately tried out in the next training sessions. However, this did not always lead to the desired result. Depending on their degree of desperation, they would also buy books or DVDs and ramp up the training workload. But the ability to coolly jump over a tree trunk on the path still eluded some. Crossing a step on the uphill trail with ease was just as fascinating. In most cases, it was simply down to lack of the basics.
So it came as no surprise when the first MTB riding technique courses soon appeared. What's more, as mountain bikes became technically more advanced, this raised the touring capabilities they brought with them virtually every year to a whole new level.
Basically, not much has changed in the overall situation. The only difference is that the demands on riding technique have increased. If the MTB is technically more capable, then you want to put it into practice on the tours and make it even more fun.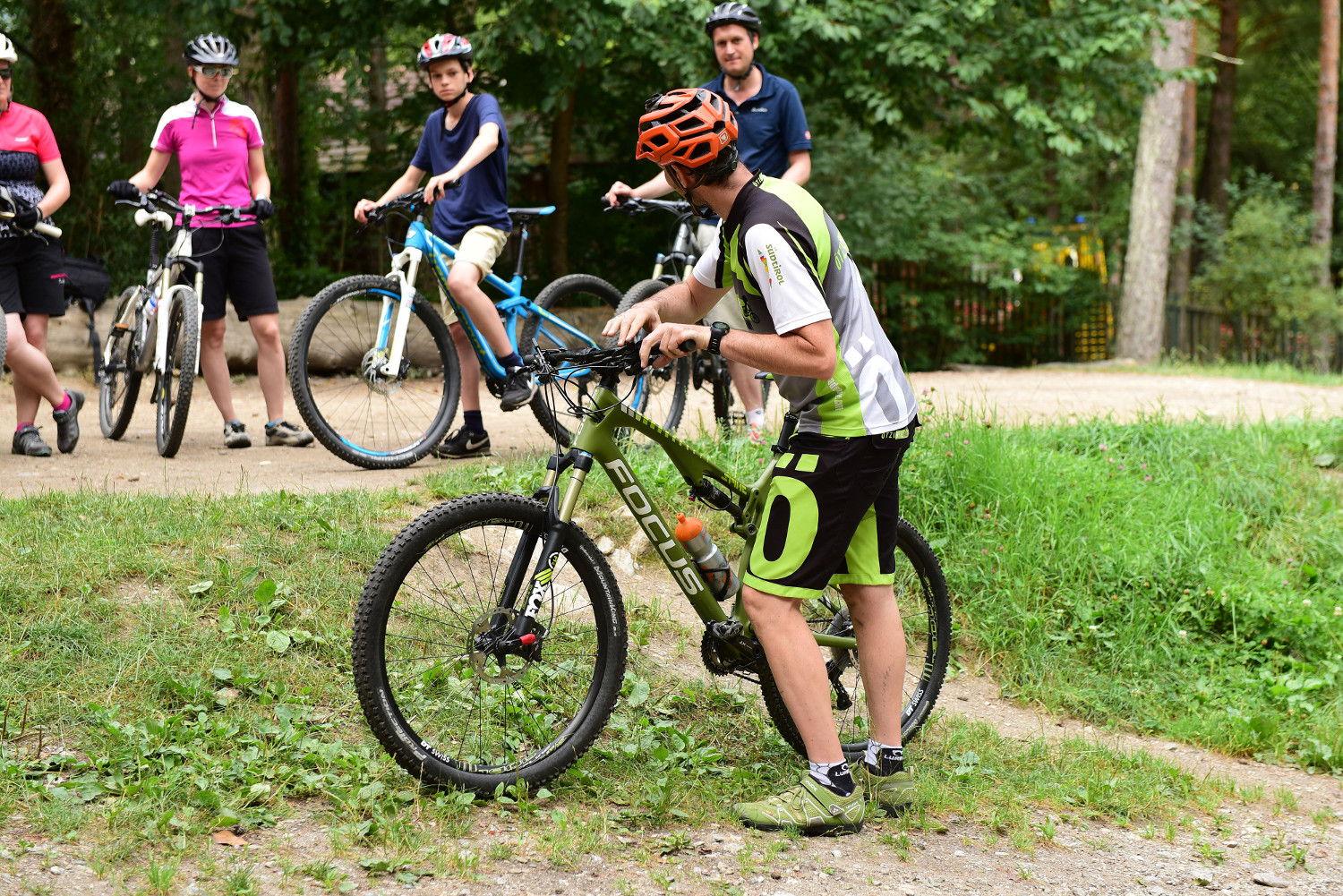 But what is the use of an expensive bike if the rider can't master it on tour? Targeted MTB riding technique training is the only way to remedy this. So why not get the basics sorted straight away on your bike holiday and take a few group courses? It's more fun in a group anyway once you see others facing similar problems.
Our MTB riding technique offers
Every mountain bike course takes place on our own training course in a small forest on the outskirts of Naturno. The terrain is perfectly adapted for practising riding techniques: a small trail with hairpin bends, steps, see-saw, equipment for balancing exercises and much more. If you want to head off on a tour right after a course, the path to the Malga di Naturno begins directly at the site. You can put what you have just learned into practice on the descent and really enjoy the trails. The Merano Bike Highline runs over the mountain pasture.
The respective course is aimed at bikers of a certain level. Groups are put together according to skill levels after a guidance discussion during the registration process. If requested, we take personal wishes into account. Private riding technique courses on MTBs are also possible, of course. We discuss and agree on the details together.
Our team is made up of certified guides with many years of experience. The Academy was one of the first to offer MTB riding technique workshops in South Tyrol in 2007. Through their work as mountain bike tour guides, they not only know all the trails in the region, but also have the necessary teaching and methodology skills to teach in groups.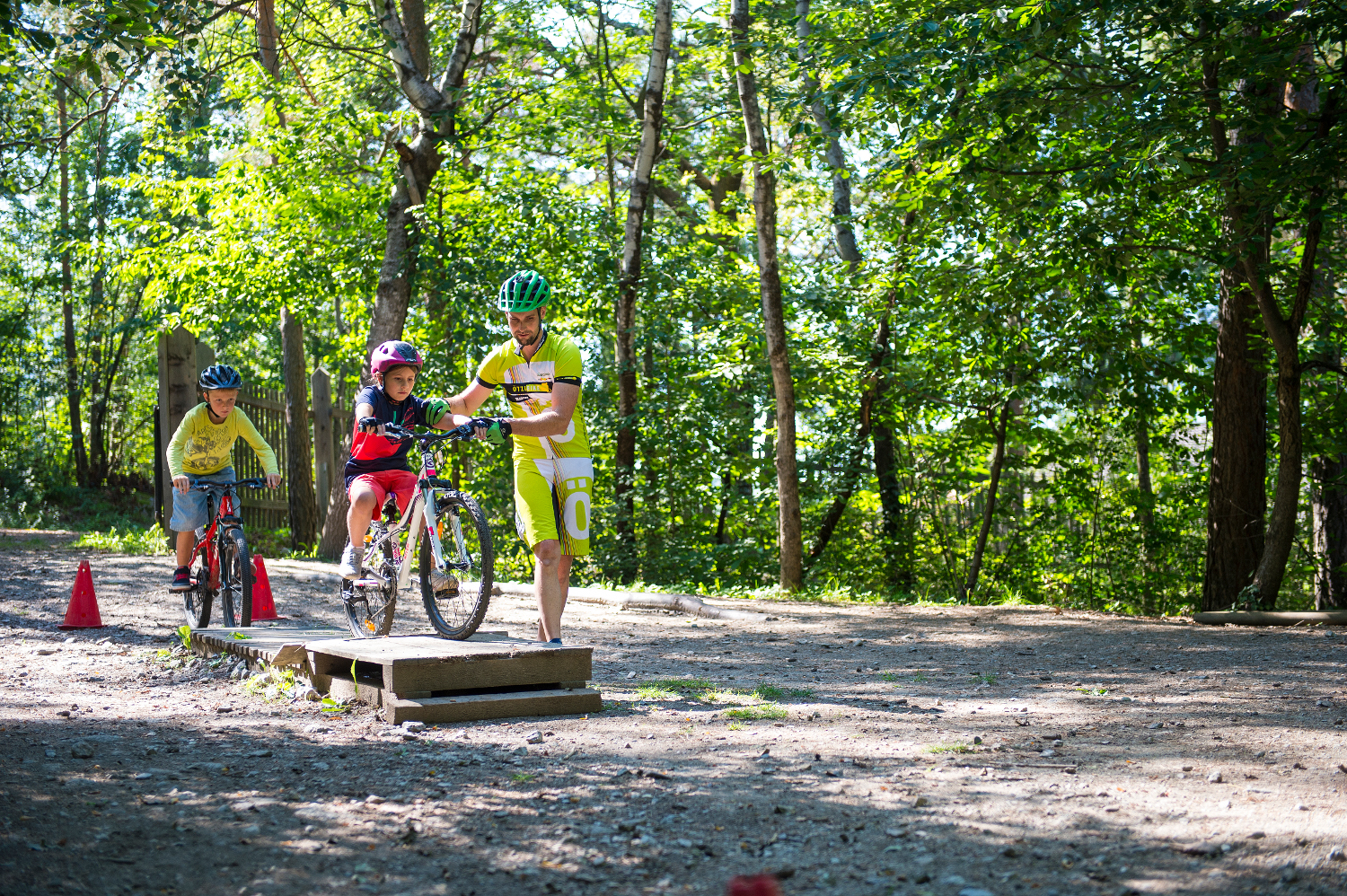 Basic MTB riding technique course – level 1

Bike control, measurement

Notes on brake, seat and pedal position settings

Balance and equilibrium

Weight shift uphill/downhill

Correct braking and switching gears

Ascending uphill and starting off

Descending downhill

Cornering technique (steering, gravel bend, slight hairpin)

Weight shifting
Advanced MTB riding technique course – level 2
Continuation of balance training, cornering techniques (gravel bend, hairpin)

Refining the uphill technique

Refining the downhill technique

Overcoming small obstacles (rear wheel and front wheel)

Choice of racing line on trails
Mountain bike riding technique course for experts – level 3
Cornering technique (gravel bend)

Cornering (hairpin bends on the trail uphill and downhill) using the rear wheel

Technically demanding ascents

Technically demanding descents

Overcoming rock steps, etc. on the trail

Small drops
Basic MTB riding technique courses for kids & teens
Every Wednesday during the holiday season, we organise an open afternoon for children and young people, which also takes place on the riding technique training course. This course allows beginners aged 10–16 to try their hand at the basics of mountain biking under the expert guidance of our bike guides.
The child must be accompanied by a parent to take part. Of course, there are lots of tips on equipment, how to get started with riding technique training and loads of fun on the first bike tours.
Weekly programme and dates of the MTB riding technique courses in 2019[E1]…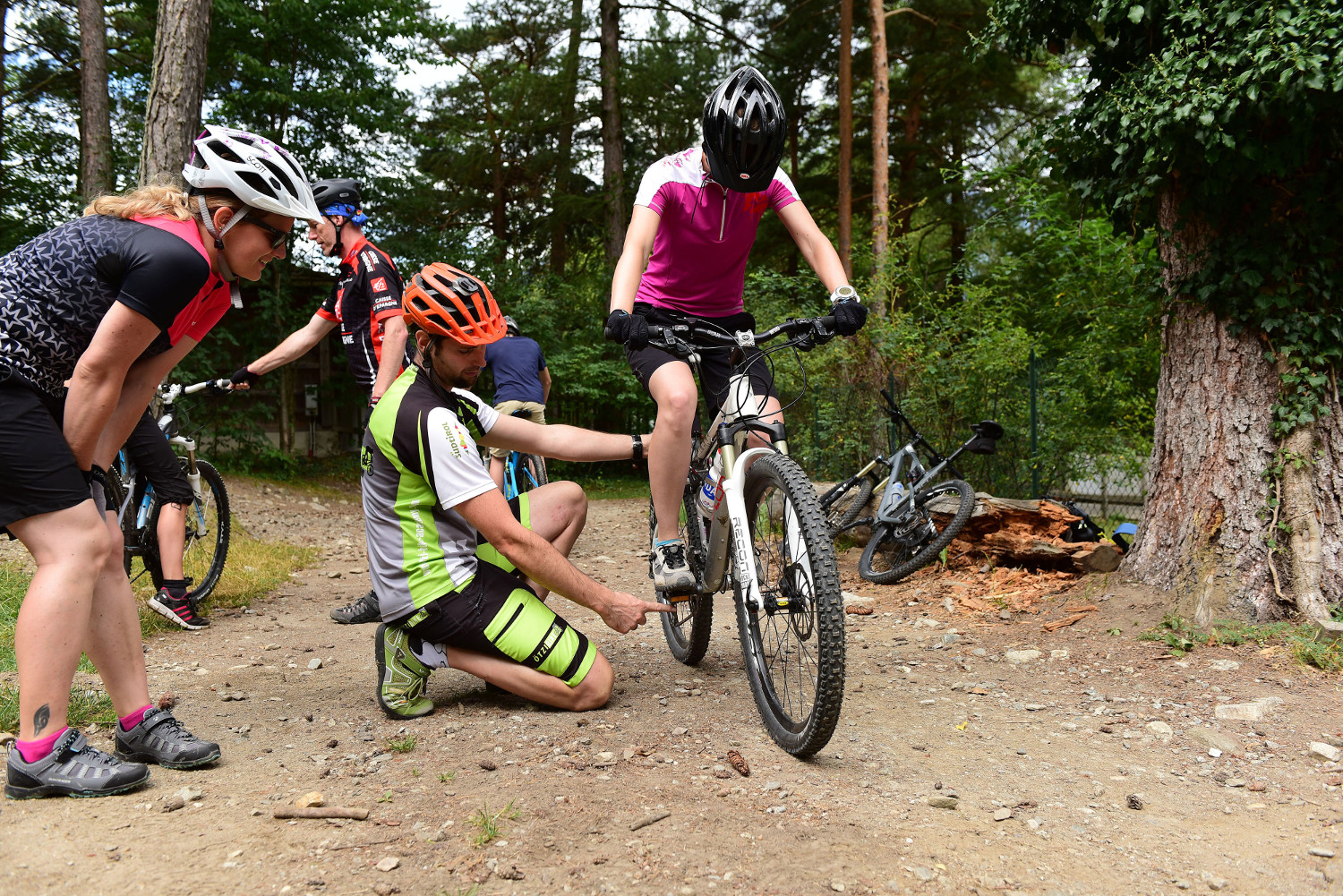 Guided mountain bike tours
Whether you have attended one course or completed several courses, Level 1 or Level 3 – the fun starts on the trails during the MTB tours. Here is where you decide whether the riding technique course was worth it or not. We won't leave you alone for the practical test, either short tours can be part of the course and generally take place around our riding technique course. On longer tours in the Val Venosta region and depending on the level of difficulty, we deal with fine-tuning the MTB riding technique. Of course, we are happy to give you hints and show you where there is potential for improvement on the bike.
Val Venosta is now one of the TOP areas for mountain bike tours in the Alps. Word of the numerous trails got around in the biking crowd and they have also appeared in trade magazines. Beginners first choose a tour on the hillsides and then enhance their technique from level to level. Experienced marathon cyclists can test their skills and accumulate altitude metres up to 3,000 m altitude, especially on tours in middle and upper Val Venosta.