Technique training basic course at the technique training area of the Ötzi Bike Academy
Deadline
29.10.2023 22:00
Until 10 pm the day before, at the reception of your hotel or on our website.
Adolescents from 14 years can participate on the basic course if the registration form is signed from the parents.
Elevation gain
 200 m
 200 m
Underground surface
100% crushed stone
Price
25,00 € (Price partner hotels), 50,00 € (Price Bikeacademy)
Course
At the technique training area of the Ötzi Bike Academy Naturns (above the sports field)
Food
Bring some food with you
Equipment

Cycling helmet mandatory, sneakers, bike clothing, Windbreak, water bottle, money
Description
Accompanied from our Ötzi Bike Acadamy guide, we start from the Ötzi Bike Shop and ride towards the technical training area of the Ötzi Bike Acadamy, above the sports field (approx 10 min).
Here we will get a basic MTB course about these topics:
- Right position on the bike
- Basic exercises on the bike (changing gears, breaking)
- Balance on the bike
- Technique in turns (steering, gravel turns, easy hairpin bends)
- Technique in Uphill and Downhill

These topics will be explained to you and practised with specific exercises.

The guides will give you some tips and will help you to gain more safety on your bike.
The training lasts about 4 hrs.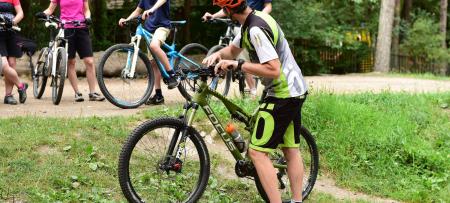 ‹ Back