Advanced technique training course with the E-Mountainbike
Deadline
04.10.2023 22:00
Until 10 pm the day before, at the reception of your hotel or on our website.
Adolescents from 14 years can participate on the basic course if the registration form is signed from the parents.
Elevation gain
 600 m
 600 m
Underground surface
10% asphalt, 30% gravel, 60% trail
Price
25,00 € (Price partner hotels), 50,00 € (Price Bikeacademy)
Course
First part on the technique training area - second part at the surrounding trails
Food
Bring some food with you
Equipment
Cycling helmet mandatory, sneakers, bike clothing, Windbreak, water bottle, money
Description
At our technique training cours for E-MTB we work on the special technical needs an E-MTB requires. How to choose the right step of the engine, how to use your brakes properly, how to ride downhill with an E-MTB, what is crucial in the uphill and how to find the right line on the trail are some of the topics of this course to ride this new generation bike safely. During the advanced technique training for E-MTB the participants will be at the technique training area for approx. 3 hrs. Afterwards a little tour is planned so that the participants can put in to practice what they have learnt at the course.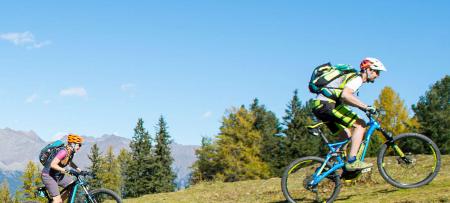 ‹ Back